Developer Overview
Learn how you to extend PyFM with your own functions.
How FileMaker plug-ins work
A FileMaker plug-in is a dynamically loadable library that receives calls from FileMaker and may call FileMaker back. From the user point of view a plug-in extends FileMaker with one or more functions.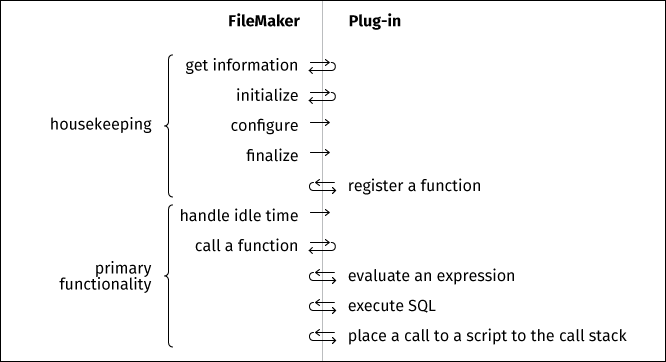 How the PyFM plug-in works
The PyFM plug-in structure is different from a typical FileMaker plug-in: In addition to the usual dynamic library code it has a Zip archive at the end. The Zip archive stores files written in Python language and the code part includes a built-in Python interpreter that is set up to look for its library in this archive.

All this means that you can write your own Python modules, add them to this Zip archive, and they will become a part of the plug-in.
If you peek into the archive you'll see that most files are .pyc files (compiled Python bytecode) as oppposed to .py (actual Python sources). This is a pragmatic decision to speed up code loading and save space in the archive. Plain-text .py sources will work just fine.
How PyFM can call your code
To access an arbitrary Python object the plug-in provides a glue function: PyRun. The function takes at least two arguments: the name of the Python module and the name of the object in the module. For example:
PyRun( "foo", "bar" )
This call will try to find the foo module and then the bar object inside the module (foo.bar). If the found Python object is callable, the function will call the object; also, if it received more than two arguments, it will pass the rest of them as parameters for the call. For example:
PyRun( "foo", "bar", 123, Table::Field )
This call will find the foo.bar object and call it with parameters 123 and the contents of Table::Field.
If the object is not callable, PyRun will return it as is and ignore the arguments.
The called Python function can call other Python modules and, if necessary, access the FileMaker plug-in API through the built-in filemaker module.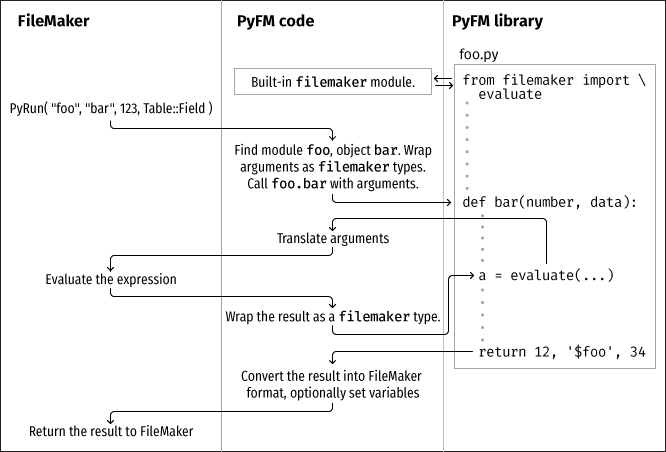 How your own functions work
You need to write a plain Python function. It may accept a fixed or arbitrary number of arguments, as it's common in Python:
def

 

foo

(

a

,

 

b

,

 

c

):

               
    

pass




def

 

bar

(

a

,

 

b

,

 

c

,

 

d

=

42

)

          
    

pass




def

 

baz

(

a

,

 

b

,

 

c

,

 

d

=

42

,

 

*

args

):

  
    

pass



You can provide a default value for an argument, but otherwise you cannot use keywords, because FileMaker has no idea of keywords.
In your function you can make calls to other Python modules (including your own) and use the filemaker module to work with the FileMaker plug-in API. At the end you'll probably return a result. There's also a way to conveniently set FileMaker variables upon return.
Receiving parameters
If your function specifies parameters, it will get instances of FileMaker types. In Python these are members of the filemaker module: Text, Number, Date, Time, Timestamp, and Container:
import

 

filemaker




def

 

foo

(

bar

):


    

return

 

"The type of bar is 

%s

."

 

%

 

type

(

bar

)

.

__name__



An important thing about function parameters is that they are read-only and have limited lifetime.
Normally FileMaker data types are modifiable; you can create a Text instance and then alter it in-place; function parameters are not like that, you can only read them. If you need to modify the value of the parameter, make a copy:
import

 

filemaker




def

 

foo

(

bar

):


    

return

 

"Uppercase bar is 

%s

"

 

%

 

filemaker

.

Text

(

bar

)

.

upper

()



Function parameters are not unique in being read-only; everything you receive from FileMaker is read-only (see below about calling back to FileMaker).
In addition to being read-only function parameters also have limited lifetime: they only stay valid until you return control back to FileMaker. If you need to keep the parameter around between calls, make a copy:
import

 

filemaker




def

 

foo

(

bar

):


    

result

 

=

 

u

"Bar is 

%s

 and the last bar was 

%s

"

 

%

 

(

bar

,

 

last_bar

)


    

last_bar

 

=

 

filemaker

.

Text

(

bar

)


    

return

 

result




last_bar

 

=

 

None



Calling back to FileMaker
Your function can make calls back to FileMaker using the evaluate function and the execute_sql family of functions. All results you'll get from these calls are read-only; usually it's one of primary data types, except the execute_sql_2 function that returns a Dataset that consists of Datarows that, in turn, consist of primary data types, all read-only. You can also place a call to a script to the call stack; the script will run after your function returns.
Returning the result
Your function may return instances of main filemaker types (Text, Number, Date, Time, Timestamp, or Container) or compatible Python types: str, unicode, int, long, float, and types of the datetime module: date, time, datetime, and timedelta. You can also return bool and None or not return anything at all (in this case Python will return None itself).
Note that as of now there's no compatible Python type for filemaker Container; you have to use the native type.
For example:
from

 

filemaker

 

import

 

Container




def

 

foo

():


    

return

 

Container

(

FNAM

=

'file.ext'

,

 

FILE

=

'abc def ghi'

)



Here we create a new filemaker Container, set its displayed file name to file.ext and file data to abc def ghi. (In general case file data are a binary stream; here it's a binary stream of a plain text file.)
Setting variables
In addition to a single result your function may also set FileMaker variables upon return. To do this return more than one result like that:
def

 

foo

():


    

return

 

42

,

 

'$foo'

,

 

'Foo'

,

 

'$bar'

,

 

(

'Bar 1'

,

 

'Bar 2'

)



Here the direct result of the function will be 42 and it will also set variables: $foo to "Foo" (the first repetition), $bar[1] to "Bar 1", and $bar[2] to "Bar 2".
What's inside
PyFM embeds Python v2.7.11, a good part of the standard library, and some third-party modules. (The full list of included modules is yet to come.) Some of the standard modules are not yet there because they are C extensions and it's a bit more cumbersome to embed them; some are just not applicable (such as Sun OS modules, of course, or Tcl/Tk modules that are not designed to be used from inside a DLL).